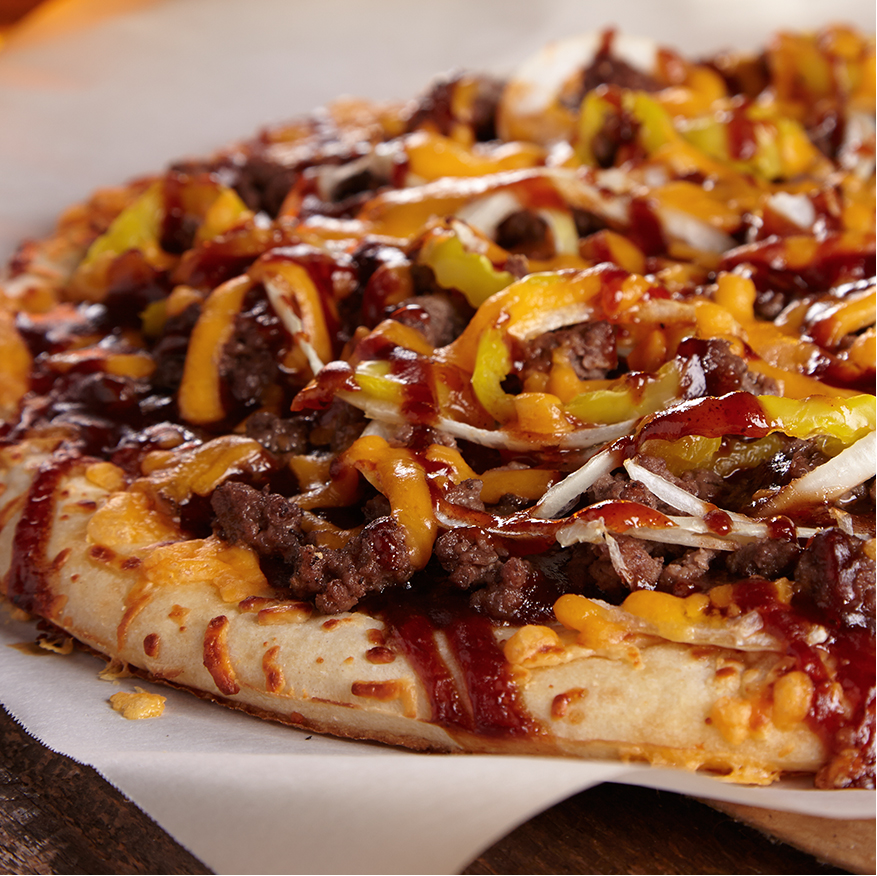 Texas Touchdown BBQ Pizza
Ingredients
1 12" Boboli® Original Pizza Crust
2 tbsp. olive oil
3 cloves garlic, minced
1 1/2 c. ketchup
1 1/2 c. apple cider vinegar
3/4 c. Blackstrap molasses
3/4 c. honey
1/2 c. brown sugar
1 tsp. chili powder
1/3 tsp. onion powder
2 tsp. hot pepper sauce
1 lb. lean ground beef
1 1/2 tsp. salt
1 1/2 tsp. fresh ground pepper
1 medium onion, sliced thin
1/4 c. sliced pickled pepperoncini peppers
1 c. shredded cheddar cheese
Directions
Preheat oven to 450° F. In a large sauce pan, heat olive oil and sauté minced garlic for one minute. Do not burn. Add ketchup, vinegar, molasses, honey, brown sugar, chili powder, onion powder, and hot pepper sauce. Whisk to combine. Heat to boil, and then reduce heat to a low simmer. Stir periodically. While sauce is simmering, brown ground beef in a large skillet. Season with salt and pepper. Spread 1/2 cup sauce on prepared Boboli® pizza crust. Place ground beef on top of sauce. Place onions and pepperoncini peppers on top of beef. Drizzle 1/4 cup of sauce on top of pizza. Sprinkle shredded cheese on top and drizzle at least 1/4 cup more sauce on top of cheese.(You may use more sauce to taste.) Bake pizza for 8-10 minutes until cheese is bubbly. Enjoy! For 8" pizza crust, use 2/3 ingredients.
Grilling Instructions:
Preheat grill for 10 – 15 minutes on medium-high heat. Please follow any safety instructions provided by your grill manufacturer prior to grilling. If you have a gas grill, turn off one of the burners. If you use charcoal, push charcoal to one side. Brush a dash of olive oil (or melted butter) on each side of your Boboli® pizza crust. Place the crust on the side of the grill with the burner turned off or without the charcoal. Grill the crust 2 – 4 minutes per side. Remove from grill. Add toppings and return to grill for 8 – 10 minutes. Grill until the cheese is melted and the crust is golden. Remove from heat, let cool for 2 minutes, and enjoy!
Find Boboli Pizza Crust near you:
* Required